LEVEL UP YOUR CLIMBING
Climbing is an exploration. Outwardly we explore terrain, mountains, rocks and boulders. Inwardly we redefine ourselves by discovering what we are truly capable of as climbers. Our personal coaches have been where you are now. They know how to overcome a ``plateau`` and are eager to share their expertise, providing you the tools to reach beyond what you think is possible.
UPSKILL ME ON...
LEAD COURSES
YOUTH TEAM
PRIVATE COACHING
BASIC MOVEMENT
FITNESS & YOGA
SPECIAL COURSES
The individual nature of climbing gives rise to a sense that you can make it on your own merit. The observation and guidance of an expert coach or trainer can speed up your progress so you rise through the grades faster and with the fundamentals of efficient climbing technique.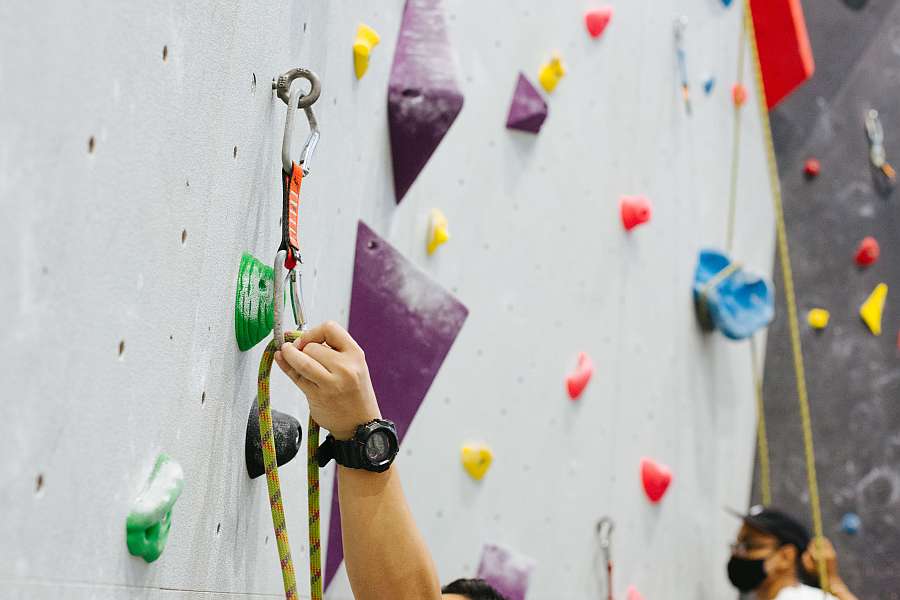 Leading is a natural progression of climbing. To be independent, able to step up to a wall, choose a line, and climb it is liberating. Only by tying into the 'sharp end' of the rope can the climber explore 'the zone' located just above the last clip. Such freedom comes with new risks, requiring new skills and experience.
Camp5 eases your transition from indoor top-roping to lead climbing via a two progressive instructional courses. The Lead Wall Course of courses on skills relevant to indoor lead climbing, whilst the Lead Rock Course will equip you with the know-how and skills to safely lead on outdoor bolted sport routes.
For those that seek to take their climbing higher, we offer the Multipitch course. Run over 2.5days you'll learn and practice the skills indoor before taking on one of KL's world-class multipitch sport climbing routes.
Prerequisites
All participants must be 13 years of age and be comfortable to climb above 6a grade climbs. This climbing ability is critical to your own safety. We recommend completing a dozen 6a grade or harder routes on steep terrain to be physically ready for the next level.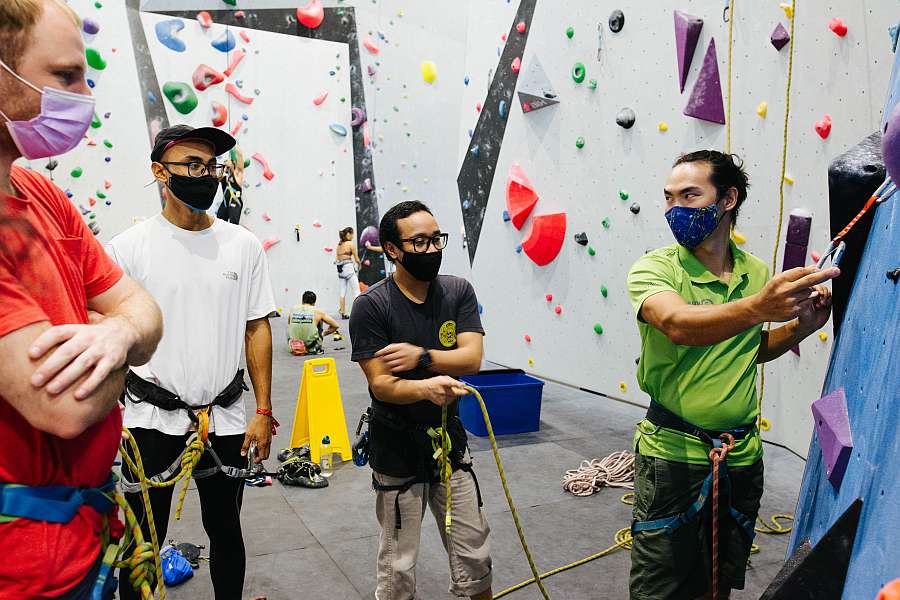 The Lead Wall Course (LWC) covers all aspects of lead climbing on an artificial climbing wall including; leading gear review, clipping, fall factors, lead climbing, belaying and fall techniques.
At the conclusion of the course, you should have lead and belayed on not less than 3 routes and be eligible to continue to climb in Camp5 as a lead climber.
Prerequisites:
– 13 years of age
– 6a climbing ability
– Toprope safety skill competent
Class Fee: MYR 200/person
Duration: 6-Hours
Class Size: 4-12 Students
* Fee does not include Gym Entry Fee or Harness, Shoes or Belay Device. You will need to rent these if you do not already own your own.
* 20% Discount for 3 & 12 month term holders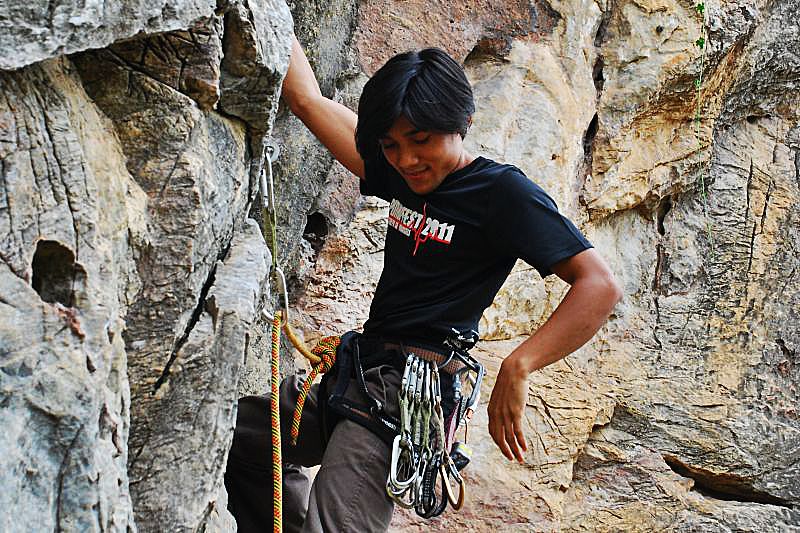 The Lead Rock Course covers skills and safety factors relevant to outdoor lead climbing on bolted sport climbing routes. You will be introduced to quickdraws, slings and webbing, advanced knots, basic anchor building, gear retrieval, and single pitch self-rescue techniques.
The course will be conducted at one of KL's nearby rock climbing sites at Batu Caves or Bukit Takun area – TBC. Ground transport is not provided.
Prerequisites:
– 13 years of age
– 6a climbing ability
– Indoor lead climbing safety skill competent
Class Fee: MYR 300/person
Duration: 6-Hours
Class Size: 4-8 Students
* Fee does not include Harness, Shoes, Belay Device or Helmet. You will need to rent these if you do not already own your own.
* Food & Transportation not included.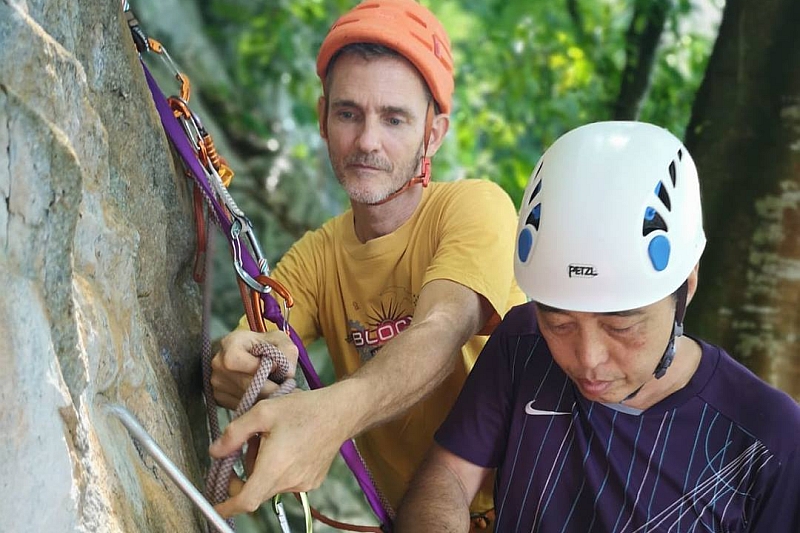 On the doorstep of KL are some world-class multipitch routes. This Multipitch Course will provide the skills to ensure you are prepared for what you might face when a direct lower to the ground is no longer an option.
You will be introduced to route preparation and planning, advanced knots, rope management, swapping and block leads, belay station setup, abseiling, ascending, and multipitch self-rescue techniques.
Prerequisites:
– 13 years of age
– 6a outdoor lead climbing ability
– Can clean a single-pitch anchor
– Own climbing gear including quickdraws and rope (1 between 2)
Class Fee: MYR 900/person
Duration: 2.5 Days (1.5 days Indoor 1 day outdoor)
Class Size: 4-6 Students (best to come in pairs)
* Food & Transportation not included.
Frequently Asked Questions
What is the minimum age to participate?
The recommended minimum age is aged 13. However, participants aged 10-12 may attend if accompanied by a participating adult.
The Prerequisite 6a Grade, what does this mean?
6a is the French Grade for the route difficulty. The equivalent YDS grade is 5.10a or 19 for NZ/Aust. Since most of the routes on Camp5's Lead Wall and outdoors are above 6a, it would not make sense to enroll in the course unless you are very comfortable climbing this grade. By 'comfortable' implies that you can climb a route of this grade without too much effort.
Is the price the same for Junior(ages 13-17)?
The course fee is the same for everyone, however, the entry fee will differ for Junior (RM26) vs Adult (RM36). Check the full list of entry fees here. SPECIAL OFFER: If you chose a 3 or 12-month Term your BWC Fee will be discounted.
When does the course run?
Lead Wall Courses are scheduled most weekends. Simply select the outlet (which has a lead wall) and chose from any of the listed program times available.
The Lead Rock Course is run on request. If you are interested in the LRC please write to climb@camp5.com.
Do I need to book in advance?
Yes. Spaces are limited and the course requires at least 4 persons booked to run.
Once I have completed the LWC will I receive a certificate?
Yes. Upon graduating from the course, you will receive a certificate along with a new "green" Camp5 Membercard. Your Camp5 Member profile skill level will be upgraded to "Lead Climber" so you will be eligible to climb the lead wall in any Camp5 outlet.
Can I bring a Top-roper to lead climb?
Whilst we strongly discourage learning to climb through anyone other than a professional climbing instructor. The risk associated with Lead Climbing are in many degrees greater than Top-roping.
If you want to give a Top-roper a chance to climb on the lead wall, this can be done safely by letting the top-roper tie into the 'clipped' side of the rope. As they climb, they can unclip the rope from the quickdraw JUST BE SURE TO BRIEF THE TOP ROPER NOT TO ATTEMPT TO REMOVE THE ROPE FROM THE ANCHOR. Once the rope has been cleared from the wall quickdraws the rope need to be pulled down.
Will the LWC certification allow me to climb in other gyms?
Whilst we cannot say 100% percent as operation policies differ from country to country, given that our instructor's certification is recognized by the International Federation of Sport Climbing Associations (IFSCA) there is a good chance your certificate will be accepted as proof of training. In our experience, we know of no situation where a past graduate of our LWC was denied access.
THE
YOUTH DEVELOPMENT

PROGRAM
The benefit of climbing for young bodies and minds is widely known. From motor skill development, problem-solving, and self-confidence, few sports provide the range of growth inherent and integral to climbing. Our Youth Development Program is designed to maximize these benefits and more.
Starting from the Cicak Club at 6 years old, we provide a roadmap of continuous training for children of all abilities through to their adult years. Every step of the way our coaches work on climbing ability, strength and endurance, in parallel with goal setting, injury prevention and other skills that are needed in the competitive arena.
The Cicak Club is run year-round, new members can enroll in the Cicak Club at any time throughout the year.
The Base Camp, Squad and Youth Teams follow two seasons; Summer (January – June) and Winter (September – December). At the start of each of these seasons, a Try Out day is held to meet the prospective participants. Those wishing to join one of these programs will need to enroll on the Try Out day prior to the start of the season.
To register your child for any of our Youth Development Programs, please click the Submit an Enquiry & Enroll Your Kids tab below.
Check the Try Out & Class Schedule tab to see when the next Try Out is running.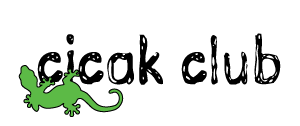 Climbing is an adventurous sport that promotes fitness in a fun and challenging way. The Cicak Club curriculum focuses on the safety and ethos of climbing, each Cicak will learn how to look after themselves and others whilst climbing walls. To track their progress, each Cicak Member will receive a "Passport", outlining the three levels that need to be completed to graduate.
Ages: 6-12 years old
Location: Camp5 1 Utama, Utropolis, Jumpa & Paradigm JB
Schedule: Monday & Friday 5:00-6:30pm
Enrolment: At any time throughout the year.
Joining Fee: MYR 100
Per Session: MYR 65
10 Sessions: MYR 510
20 Sessions: MYR 810
*10 & 20 Session passes are valid for 12 Months
Once registered, your lil' Cicak can attend either the Monday or Friday session. We recommend attending at least 1 Class per week to ensure new skills are not forgotten. The Cicak's Passport will be held at Camp5. If you need to change gym please notify Camp5 in advance so the Passport can be transferred.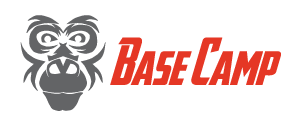 The Base Camp is a 10-week introductory program to climbing. The group focuses on the basics of movement; stepping, body positioning, decision making and also covers safety, how to use each area of a climbing gym, the different types of climbing and climbing etiquette. Upon graduating from the Base Camp, each member will be invited to join The Squad.
With just one 90 minute session a week, this program is perfect for novices interested in finding out what climbing is all about!
Ages: 10-18 years old
Location: Camp5 Eco City
Schedule: Friday 4:30-6:00pm
Enrollment: Twice annually
Fee: MYR 640 (10 Classes)*
*Fee does not include gym entry and gear
*20% Discount applicable for members on any 3 or 12 Month Term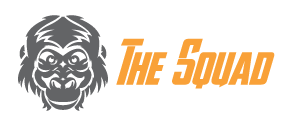 The Squad is a twice-weekly climbing practice that covers climbing skills, strength and power conditioning. Members are taught advanced climbing skills such as static and dynamic movement techniques, pacing and route reading. Our coaches provide individualized feedback to assist the participants on the journey in accomplishing their goals.
Members of the Squad are required to be top rope proficient by the 4th week of the program, please ask a member of the coaching staff for further details.
Ages: 10-18 years old
Location: Camp5 Eco City
Schedule: Monday & Friday 6:30-8:00pm
Enrollment: Team selection is made via Tryouts run twice annually
Fee: Summer Season (January – June): MYR 1640*
Winter Season (September – December):  MYR 820*
*Fee does not include gym entry and gear
*20% Discount applicable for members on any 3 or 12 Month Term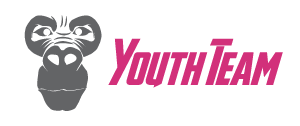 Our Youth Team is the perfect spot for those dedicated to improving their competition climbing skills. Selected from The Squad, this program focuses on more advanced movement skills, strength and conditioning.There is a greater emphasis placed on learning and improving performance in a competitive environment. Members of this Team go on to compete nationally and internationally.
Members of the Youth Team are required to be Lead Climber proficient by the 4th week of the program, please ask a member of the coaching staff for further details.
Ages: 10-18 years old
Location: Camp5 Eco City
Schedule: Monday & Friday 6:30-8:00pm
Enrollment: Team selection is made via Tryouts run twice annually
Fee: Summer Season (January – June): MYR 2000*
Winter Season (September – December): MYR 1000*
*Fee does not include gym entry and gear
*20% Discount applicable for members on any 3 or 12 Month Term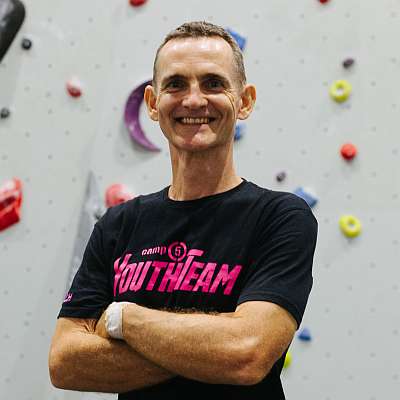 DIRECTOR OF COACHING
"We focus not only on developing climbing skills, but also on character building. Within a motivated group of peers we encourage comradery, responsibility, team spirit and discipline."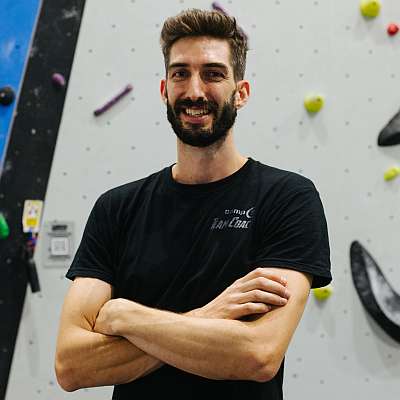 HEAD COACH
"I teach children to become fit, strong and healthy through the medium of climbing. I aim to give them the skills that enable them to achieve their goals on and off the climbing wall."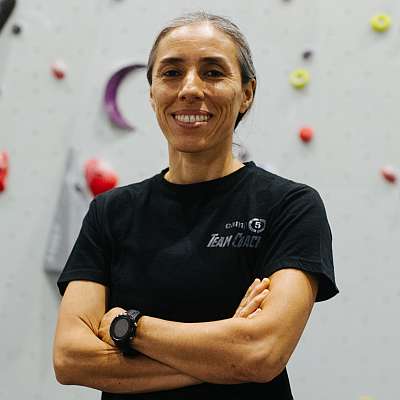 COACH
"As a coach, I provide my students with the necessary tools and training programs within a fun environment to develop strong athletes, mentally and physically."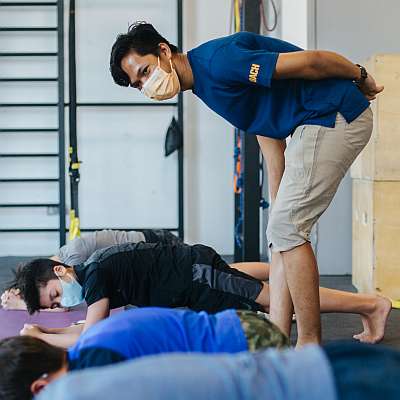 COACH
"I still compete in climbing competitions so I train the youth team with the hope that one day we will see a Malaysian achieve podium in a World Cup."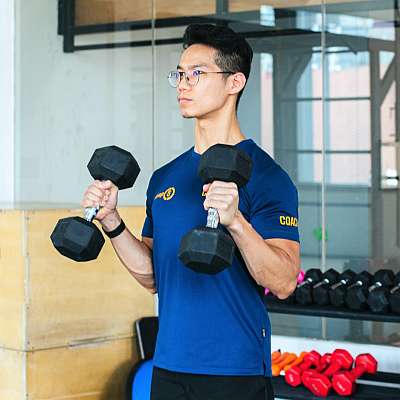 COACH
"I love training because I see value in overcoming hurdles and limitations. I aim to impart that to others; to maximize their confidence and potential"
SUBMIT AN ENQUIRY
Looking to get your kids onboard. Send us a short email via the contact form below and we'll get back to you with enrollment details.
FIRST TIME REGISTRATION
If your child has never visited any Camp5 outlet. You'll need to register them before they arrive for their first youth team session. Click the button below to register.
NEW REGISTER
At the start of each season Camp5 runs a Try Outs. This is an introductory session to the Youth Development Programs and the selection for the Base Camp, The Squad and The Youth Team. After a series of fun tests and challenges, our coaches are able to make program recommendations for each of the participants. The participants and their families are then able to listen to our coach's advice and make a decision on which program they would like to attend.
Ages: 10-18 years old
Location: Camp5 Eco City
Schedule: 6th October 2021
Enrollment: Please contact us to register your child for the next session.
Fee: RM200
*20% Discount for 3 and 12 Month Term active term holders at time of purchase
Frequently Asked Questions
I'm not sure which one of these programs suits my child, can you assist with a recommendation?
All enquiries for programs can be directed through the link above. In order for us to be able to assist you, please let us know how old your child / children are and how much climbing experience they already have. We will be in touch with you shortly to discuss your options.
Can my child join one of the programs part way through the season?
Kids can join the Cicak Club at any time throughout the year. As the syllabus for The Base Camp, The Squad and The Youth Team are progressive we recommend that new members only join at the beginning of seasons. Please contact us via the link above to discuss your options.
Can my child attend Base Camp, Squad and Youth Programs on an ad-hoc basis?
We highly recommend that each participant joins every session to maximise their learning and improvement throughout the programs' syllabus. We do not provide a prorated fee for these programs.
Can I use a 3 or 12 month pass 20% discount on the Youth Programs.
Yes! As long as the pass is on the child's membership account, they are eligible for a 20% discount on any of our youth programs.
Why doesn't the program fee for The Base Camp, The Squad or The Team also cover entry to the gym?
Keeping the entry fee separate from the program fee provides our members with greater flexibility. This method allows members to choose which Entry Pass they would like to purchase, as each pass has its own benefits. For more information on entry fees and their advantages please click here.
How much does the Try Outs cost and do I have to pay it each season?
The fee for the Try Outs is RM200. Current Members of the Youth Programs have to attend the Try Outs each season, though their attendance is free of charge.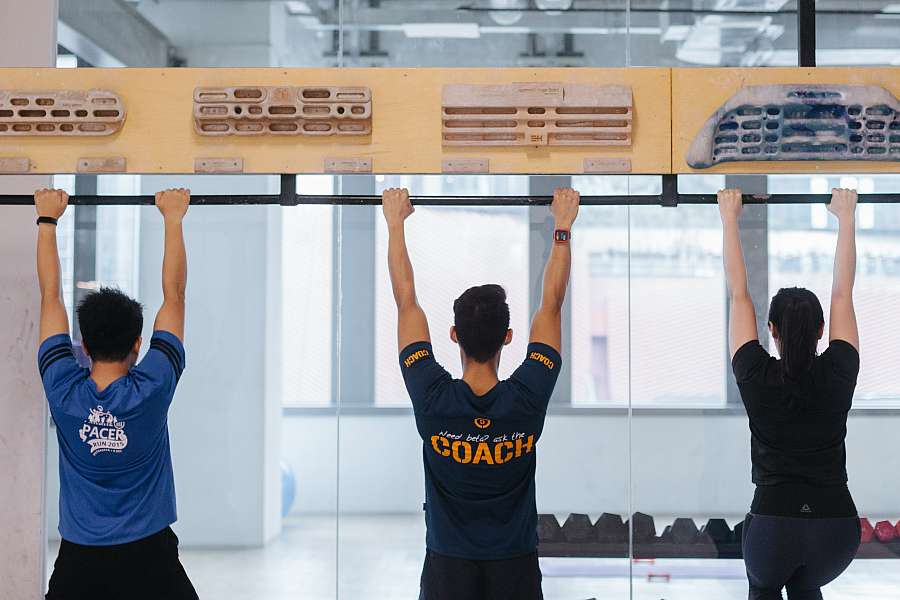 FUNCTIONAL FITNESS & YOGA

CLASSES
Climbing is movement. Our functional fitness training, antagonist (opposing) muscle strengthening, mobility and yoga classes will extend your range of movement to complement your climbing ability and amplify your performance.
We have assembled a crew of passionate climbers, coaches, fitness, mobility and yoga experts to put together classes tailored to the needs of a climber. But you don't have to be a climber to join and enjoy the benefits. We welcome fresh faces and walk-ins to our classes.
Class Fee:  MYR 40
Camp5 Member (with any active term): MYR 32
12 Class Punchcard:  MYR 400
Camp5 Member (with active 3, or 12 month term): MYR 320
*12 Class Pass Valid for 12 months
*12 Class Pass can be redeemed on any of the classes
What to bring: gym attire and trainers, padlock for the locker, towel, toiletries, and change of clothes if you wish to shower after the course.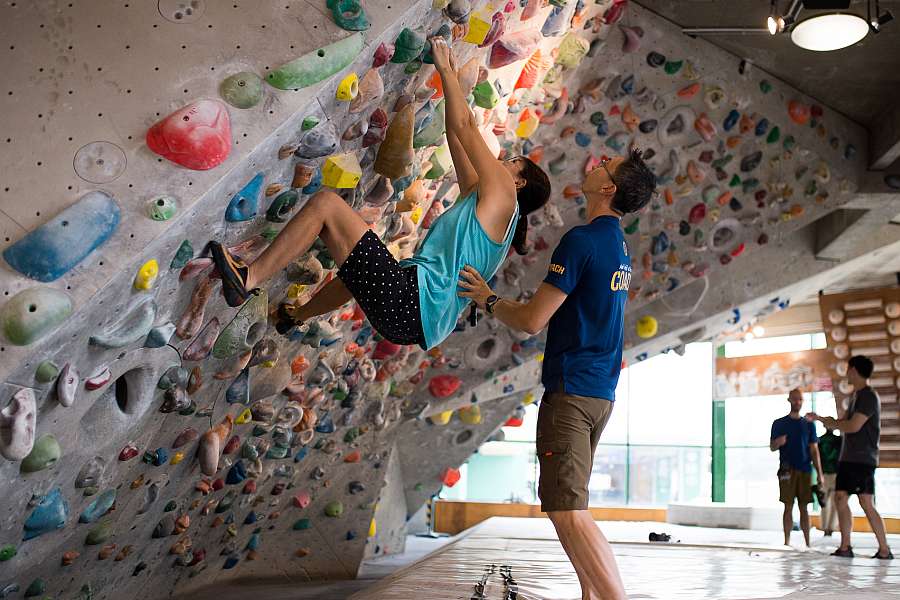 We are all unique, with our own goals and ambitions, our individual strengths and weaknesses. Whilst Camp5 courses and clinics are an excellent way to learn the fundamentals in a group setting, nothing beats personalized, one-on-one instruction.
Camp5 Coaches are approved based on their portfolio of personal and professional experience, professionalism, interpersonal skills and a genuine and demonstrated interest in seeing other climbers improve. Many of our Coaches have competed internationally, attended formal coaching and professional climbing instructor certification and PT training.
Camp5 Coaches work independently, coordinate inquiries and manage their own booking schedule directly with their clients. If you find a Coach you are interested to engage, we recommend contacting them first to confirm their availability before purchasing classes. You'll find the Coaches short bio and contact details in the Meet the Coaches tab below.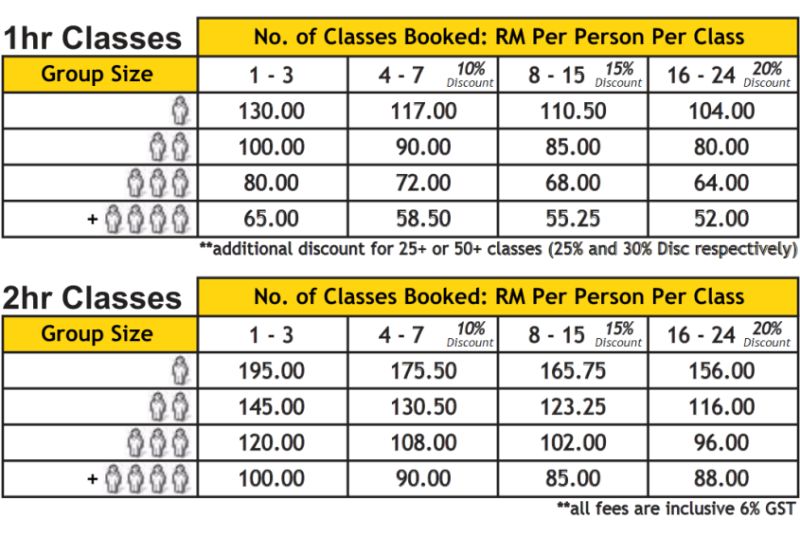 TERMS & CONDITIONS
All payments must be made directly to Camp5. The client is to present a copy of the payment receipt to the coach as confirmation.
The coaching fee does not include gym entry or gear.
Discounts for number of classes require advanced payment of total fee.
Discounts for group size is based on 100% attendance on ALL classes.
All bookings must be made directly to the coach.
It is recommended that you confirm ALL your classes at the time of booking.
Cancellation on any booked class must be made with 48hours notice.
Late cancellation or no-show will be considered a completed class.
Notwithstanding negotiations with the coach, the validity period for classes is determined by a ratio of 1 class per week i.e. 6 classes are valid for 6 weeks.
Strictly no refund or value transfer for unused/unattended classes.
Frequently Asked Questions
What is the minimum age for Private Coaching?
There is no minimum age our coaches are happy to get you kids climbing right.
How do I book a class?
Scheduling Class must be made directly with your coach. Please keep in mind that many of our coaches are freelance so its wise to book your sessions at least a week in advance.
Does the Private Coaching Fee Include Gym Entry?
No, you will need to purchase a 1 Day, 10 Pass, or 3 or 12 month term membership in addition to your Private Coaching fee. You will also need to pay the rental charges for any gear you don't own.
Note that Camp5 Free Entry Policy of members under 8 years of age will still apply for kids on Private Coaching.
Can I transfer a session?
Sessions are no transferable. However, transfer requests will be considered in case of prolonged absence of injury at the discretion of the Coach and Management.
If I book a group session of 2 or more persons, what happens if 1 of the party does not show up?
Group sessions cannot be split. If you are looking to take advantage of the group discount for shared coaching sessions, please just make sure everyone in the group is committed to joining each session.
If I'm unable to complete all my classes can I get a refund?
No, however at the discretion of Management we can transfer the unutilized value to another service.
What happens if I'm late or miss a booked class?
Our Coaches understand that in today's busy lifestyle it can be a challenge to stick to a schedule. Provided you can give the coach 24 hours there should be no love lost. But please don't make it regular. Repeated or late cancellations or a no-show may result in voided class. Please understand that many of our coaches work freelance and so they incur their own inconvenience and expenses in travel to Camp5 to provide your coaching session.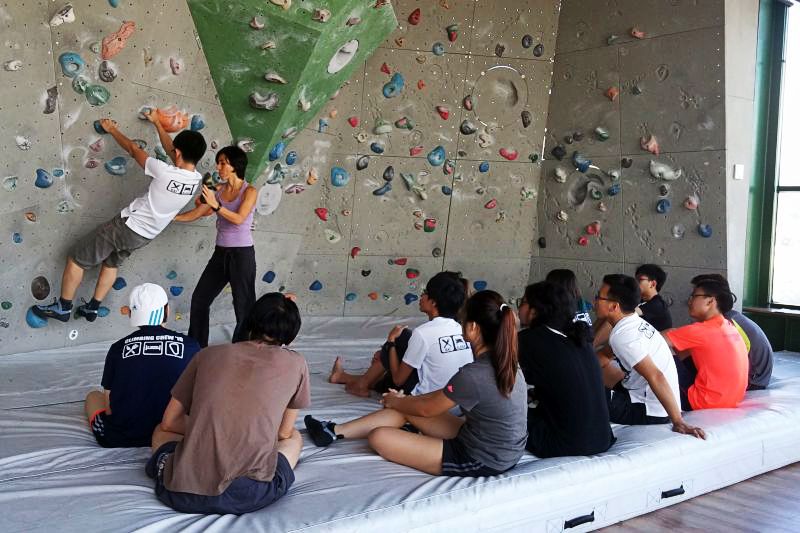 The Basic Movement Course (BMC) workshop is designed to get you started on the right foot! But seriously, all puns aside, whilst climbing movement is natural and can develop intuitively, for those who seek to fast-track to harder grades, the BMC is an excellent launch pad.
Designed for fresh graduates of the Basic Wall Course or an experienced climber, this two-hour practical workshop will provide the basic fundamental skills and techniques to plan your climbing, improve performance, climb more efficiently without overworking your upper body, minimizing the chance of injury.
Practice sessions will be carried out on the boulder and top-rope walls so competency in basic top-rope belay and relevant safety skills is a prerequisite. There is no age restriction however we recommend children under the age of 13 be accompanied by an adult.
Fee: MYR 70*
Duration: 2-Hours
* Course fee does not include Harness, Shoes or Belay Device. You will need to rent these if you do not already own your own.
* Gym Entry not included.

Frequently Asked Questions
Do I need to know how to belay in order to join the BMC?
Yes. All participants on the BMC will be expected to be already competent in basic top-roping and bouldering safety practices.

What if I don't have any gear?
You will need to rent any gear you don't have of your own. Gear is not included in the course fee.
What will we be learning in this course?
Essentially this course covers basic principles of climbing movement. From choosing a route and warming up, through to correct footwork, types of handholds, and how to move whilst maintain stability and control.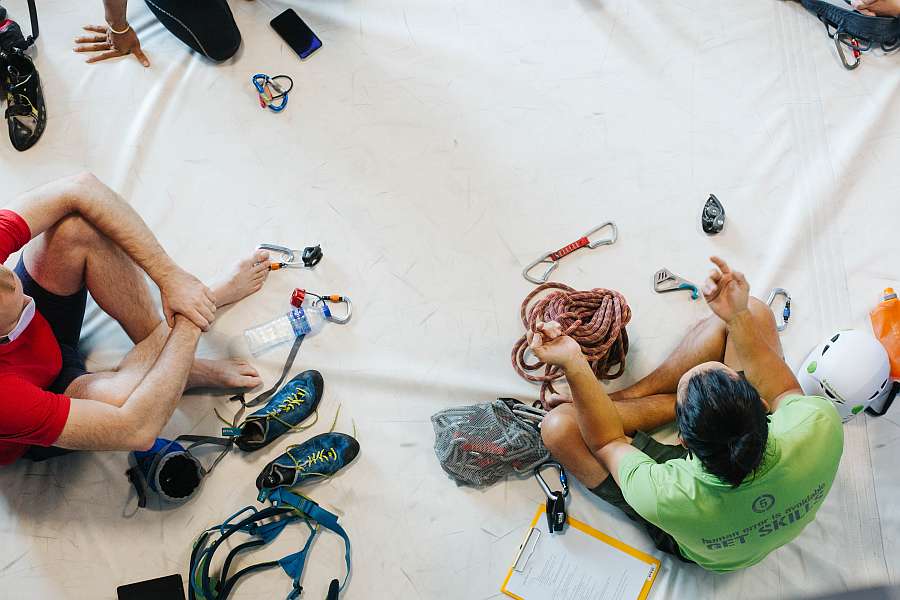 In addition to our regularly scheduled programs and private coaching service,  Camp5 offers specialty workshops throughout the year.  Workshops are typically a series of progressive classes aimed to address a particular issue in climbing performance and technique.
We also run workshops on a wider range of topics, from route setting clinics for anyone interested to learn the art to classes on abseiling, work-at-heights rope safety, sports nutrition, injury prevention and recovery.
Conducted by our elite team of coaches, guest professional climbers and industry professionals, we highly recommend enrolling in any workshop that sparks your interest as often they are one-off and may not be repeated.
To find out about any workshops in the Camp5 calendar, check the latest posting on our noticeboard and be sure to follow-us on social media.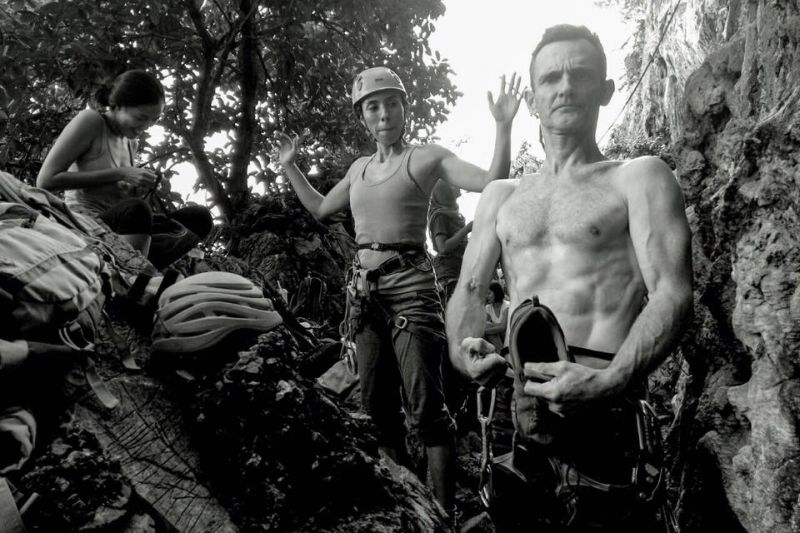 POETRY-OF-MOVEMENT

with Patrick
Coach Patrick Andrey's signature 8-Class climbing clinic "The Poetry of Movement" focuses on the fundamental techniques of climbing. Climbers can expect lessons on balance, footwork, route reading, and dissecting complicated movements. Whether you're redpointing a 7a, or you have no idea what the word 'redpoint' means, the Poetry Of Movement is sure to benefit you.
This is experiential learning through application and practice. Lessons are progressive, so it is highly recommended to enroll in the full workshop to gain the most from the classes.
Class Fee: MYR 512* for all 8 classes or MYR 80*/class.
Schedule: Starts Wednesday 27th Oct (runs weekly)
Class Times: 7-9pm
* 3 and 12-month members will receive an additional 20% off the course fee.
* Class fee does not include gear or gym entry.
In climbing we focus entirely on going up, our belayer takes care of the return trip. Unsurprisingly then, many climbers are not familiar with the art of abseiling (lowering yourself down a fixed-line).  Getting comfortable abseiling will improve your climbing.
Abseiling is common amongst action racers, caving and canyoning. The skills you will learn on this course will enable you to understand the basics of a safe abseil set up and techniques.
Class Fee: MYR 150/person.
Class Duration: 6 hours.
Class Size: 4-10 persons.
Schedule: TBC.
* 3 and 12-month members will receive an additional 20% off the course fee.
* Class fee does not include gear or gym entry.
Frequently Asked Questions
How can I find out when a specialty workshop is running?
Be sure to follow us on Facebook and Instagram and check the noticeboard in the outlet for posted updates.

Can I suggest a workshop?
Yes absolutely. We would love to hear ideas on what you feel would benefit you most to improve or gain more knowledge. If we are able to make it happen we will.